We are into the third week of the new year. Which means almost 3 weeks of trying to stay fully motivated to work towards the new years resolutions/goals you've set yourself. How do you keep that motivation going? That isn't an easy question to answer. One of my roles as a physiotherapist is to keep patients motivated whilst participating with their therapy (and other areas of their health). Here are a few little tips for you to consider when setting goals and to help you stay motivated:
1. Make the goal realistic. If you have a hectic lifestyle, splitting your time between many different aspects of life, then don't put too much pressure on yourself. Start with a small goal that is sensible and set over a reasonable period of time. For example if you want to start an exercise programme be realistic about the amount of time and energy you have to engage in the programme. This means the changes you make will become more of a habit rather than a chore and will cause you less stress trying to maintain them.
2. Is the goal achievable? Have you set yourself a target that is feasible and practical to obtain? If your ultimate goal is quite large and significant give yourself small, short term goals that you can build on to achieve the long term goal. This will help you maintain your focus and drive. If you are constantly working towards new small goals, you will gradually see the changes you achieve that will enable you to achieve your long term goal.
3. Stay patient. That can be a hard one. Making changes and seeing the rewards takes time. Make sure you regularly evaluate how far you've come. It's great to have an end goal in sight, but don't neglect to monitor the progress you're making along the way. Even little improvements are significant. Compare yourself to where you started rather than where you want to be and you will be surprised to see how far you've come.
4. Why did you set the goal in the first place? It is important not to lose sight of why you originally set the goal. There was a reason why you wanted to make a change: don't forget that reason! Over time, as you work towards your goal, it is possible you may find that the methods you use change and even the goal itself changes. Adapting is all part of what makes life interesting!
Setting goals is the easy bit. Working on achieving the goal and staying motivated, can at times be the difficult and tiresome part of making the changes. Remember anything that is worth having is worth working hard for!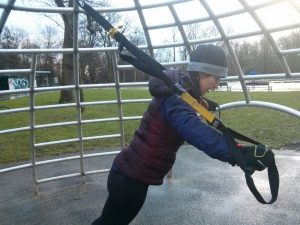 This is me working towards my goal of improving my conditioning and fitness with the help from my personal trainer Lorna Wilson from Wilson's Workouts.