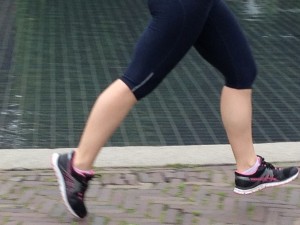 Today I want to chat about runners niggles/aches & pains and reducing the risk of injury in runners. Running is such a popular activity these days, it'sfree, can be done anywhere and at any time and so I am getting more and more athletes walking through my door with running related problems. Some of the time they can't explain why they have suddenly got the problem they have presented to me. However it is usually down to one or two simple (but crucial) elements.
So what are some of the more common causes of niggles/aches & pains in runners? They may seem obvious when seen written down, but when people are training hard, in a routine, sometimes they are less noticeable. Here are just a handful of the many causes:
• Suddenly changing your running style/technique – making a quick change to your running technique may have an impact on you biomechanically. Some people need to change their style to improve their efficacy (etc) but that is not the case for everyone.
• Changing your route – a sudden change to the type of ground you run on may also have an impact on your tissues.
• Changing footwear – the optimal running shoe is purely individual. Can the body adapt appropriately/positively to the new foot wear?
• Increasing mileage and/or intensity of training – of course, people need to increase their distance and intensity when running to progress. However it needs to be an individually graded process (just because your running partner feels ready to go faster doesn't mean you are!). Often increasing both, during the same run, can contribute to pain/injury.
• Over training – this is linked closely to increasing distance/intensity. It can really contribute to injury. The body needs to be able to manage the load i.e. the tissues need to be able to cope with what you are asking of them. Many injuries are due to the body failing to adapt. i.e. exceeding what the body can handle. It is worth considering that what we can cope with can vary on a weekly basis (if not daily basis) depending on what stresses our tissuesand emotions are under and how fatigued we are.
• Time off training – if you have taken time off training (whether it's for a nice extended holiday, work commitments or injury) you cannot expect to pick up where you left off. Do that and you increase the risk of injury as the tissues cannot cope with the demands you are asking of them. Returning (or even starting) running has to be an individual graded programme.
As you have probably noticed, there is a definite theme running (excuse the pun) through all the above points. In a nut shell can the body cope with what you are asking of it? In other words, how do we get the body to cope with the load in order to reduce the risk of injury?
There are many factors that can help the body cope – nutrition, appropriate equipment (i.e. foot wear) and hydration to name a few. However I want to focus on one fundamental area that more often than not gets over looked by runners: strength and conditioning.
The tissues need to have the ability to adapt and to sustain what you are asking of them. It is important to work on strength, flexibility, power, endurance, speed and stability (including core) in order to achieve this. Many runners' just run without having a structured programme that encompasses the other elements. Introduce strength and conditioning training to your weekly programme to work towards improving the ability of your body to cope with the demands you ask of it.
It is also necessary to include rest days from running. Do fewer runs in a week, but ensure they are good quality runs. An example of a weekly structured programme is: 2 days running with one day strength training and one day conditioning (it is important to have rest days for strength training also).
So to sum up: When considering changing an element of your routine consider the possible impact this may have on your body and tailor the change accordingly. If the tissues are able to adapt and cope better then there is less risk of injury. This can be achieved through adding strength and conditioning training to your weekly running programme.
Happy running!