Assessment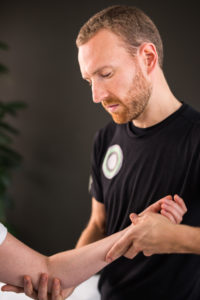 A thorough assessment will be carried out to establish your problems and objectives.
The assessment will consist of a 10-15 minute discussion of your problem. This helps establish the cause of your symptoms and determines what will be assessed in the physical examination. The physical examination consists of the assessment of the relevant physical areas associated with your symptoms. We look at the movement, strength and how those areas feeling when passively moved and palpated. Often there are specific tests for particular areas/joints that also help determine the cause of the problem.
A treatment programme will then be designed, tailored to your specific goals and needs. Your treatment programme will help you reach your full potential and assist in long term self-management in a way that suits you and your lifestyle.
Treatment
The goal is to treat physical dysfunction caused through injury, illness or disability through a variety of treatment techniques. Often a combination of techniques is used to maximise recovery. Here is a list of current physiotherapy techniques used in the practice:[custom_list "green check mark"]
Soft tissue release/mobilisation: myofascial mobilisation and deep tissue massage (Massage).
Dry Needling: both superficial and deep tissue dry needling techniques are used for the release of myofascial trigger points and pain relief (Dry Needling. What exactly is it?).
Strengthening: strengthening specific body parts/weak muscles to improve muscle balance, movement and reduce the risk of injury in the future.
Stretches: teaching appropriate static and dynamic stretches and movements to maximise soft tissue length, mobility, flexibility and efficiency of movement.
Mobilisation: actively and passively moving specific parts of the body that are stiff and painful to improve movement at the joints and reduce pain.
Manual therapy: hands on techniques involving the passive mobilisation of joints, soft tissues and neuromuscular techniques.
Advice/education: giving advice and explanations to improve understanding and long term management of the problem.
Home exercise programmes: issuing appropriate exercises to do outside the therapy sessions to maximise recovery/maintain current levels of functional abilities (Exercise prescription).