The worl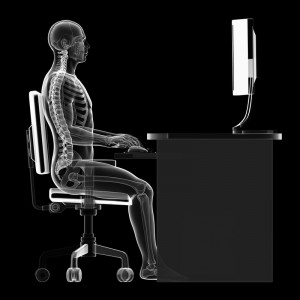 d we live in today means we find ourselves in front of a laptop/computer for a large part of the day. Even professionals that you wouldn't associate with sitting at a desk in front of a computer (like myself for instance) have to at some point in order to complete some of their daily working (and home) tasks. This, over time can take its toll on posture resulting in aches and pains.
Do you find yourself sinking further down your chair whilst your head gets closer to the screen as you get engrossed in what you are doing? Are you looking at a screen for hours every day? Take a moment to think about your posture when that happens. In fact, take a look at your posture right now, as you are reading this. If your head is nicely aligned (not poking forwards) with your spine, your shoulders are back and you're not slouching then I commend you! For the majority of people though, that won't be the case.
As we sit at our desks, our shoulders become rounded and forward, our head is forward and we slump. We feel comfortable in that position. It's certainly easier to maintain that position, especially as we get tired. This sustained posture however has an impact on our tissues. The chest muscles can become tighter, pulling your shoulders forwards. Slouching can cause the back muscles to lengthen (whilst still having to maintain being strong). It is not surprising that a large number of my patients' are coming to me with work related posture aches and pains.
There are a few general, simple tips that will helpimprove your posture:
• Make sure you take regular breaks from looking at your screen. I know it sounds obvious but it is so easy to get engrossed in the job at hand and before you know it several hours have passed and you've not moved (especially when that deadline is looming).
• Is there an option for a standing desk? If there is it may be worth trying it. The amount of time stood verses sitting needs to be gradually builtup over time.
• Have a chair that supports your back, including your lower back. If the chair does not give lower back (lumbar) support try placing a small rolled up towel between your lower back and chair. You will instantly grow taller. You may not be able to tolerate this position all day but even for a few minutes is better than not at all.
• Neck exercise. Ensure the head is in a neutral position – not tilted up or down. Retract your chin (imagine you are trying to make a double chin). Hold for as long as possible (as you will soon return to your normal position as you get distracted by whatever you are seeing on your screen!).
• Shoulder exercise. Sit tall. Bring your shoulder blades together using the muscles between your shoulder blades, not by just thrusting your chest out. This will bring your shoulders back. Again hold for as long as possible (as you will soon return to your normal position as you get distracted by whatever you are seeing on your screen!).
These are just some little tips that can help with day to day posture. There may well be other factors that contribute to aches and pains around the neck and shoulder region but being aware of your posture and being proactive in improving/maintaining good posture is a good place to start.