As promised ( in How to Carry Out Core Stability Exercises Correctly  ) I want to go through a few basic core stability exercises that can be carried out at home or in the gym. These exercises are a great way to train the muscles around the lower spine and pelvis. It is worth noting that it is important that the exercises are done correctly. If you are unsure of your technique I would always encourage you to get advice and have a professional (eg. physio/personal trainer/yoga instructor/Pilates instructor etc) observe how you are carrying out your exercises. If you are currently experiencing or have a history of lower back problems I recommend you seek advice from a physiotherapist before commencing any of these exercises.
Before trying the exercises listed below it is worthwhile seeing if you can actually activate your deep stabilising muscles. Can you carry out the action of "drawing in" your abdominals? Most people, on their first go end up drawing their stomachs in by taking a deep breath in which is not correct. It's surprisingly harder than you think! Have a go:
Lie on your back with your knees bent and feet flat on the floor. Draw your stomach (abdominals) in towards the floor (towards your spine) without taking a breath in at the same time. Keeping your stomach drawn in now push the lower part of your back that is at present not in contact floor down into the floor. Your pelvis will tilt forwards a little (Fig 1)

Fig 1
If you are not quite sure you can try it in another position:
Kneel on all fours, with your hands directly below your shoulders and knees below hips. Draw you abdominals up towards your spine without taking a breath in. At the same time tilt your pelvis slightly forwards
Once you have mastered the position you can concentrate on breathing in a normal manner, holding the contraction for 10 seconds.
When you feel you have learnt to stabilise your back/pelvis region (through the above exercise) then you are ready to try the exercises below (starting position is on the floor):
1. The Plank (Fig 2): Positioned face down. Support yourself on your forearms and through your feet (toes), with your pelvis in a neutral position (don't let your bottom sink or stick up) and your legs fully extended. Brace your stomach and buttocks throughout the exercise. Aim to hold for 30 seconds but discontinue if you start to feel your back.

Fig 2
2. The side plank (Fig 3): Position on your side. Support yourself on one forearm and the side of the lower foot. You can have the top foot placed on the floor in front on the lower foot or on top of the lower foot. Lift your hips off the floor to get the body into a straight line. If you can, lift your upper arm up towards the ceiling. Brace your stomach and buttocks throughout the exercise. Aim to hold for 30 seconds but discontinue if you start to feel your back.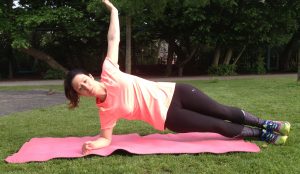 Fig 3
3. Bridging (Fig 4): Lying on the floor with your knees bent and feet flat on the floor. Draw in your abdominals. Squeeze your buttocks together and lift your pelvis off the floor until the body is straight. Hold for 10 seconds and then slowly lower to return to the staring position.

Fig 4
4. Superman four point kneeling position (Fig 5): Kneel on all fours with your hands under your shoulders and knees under your hips. Draw your abdominals in. Raise one hand off the floor (as if you are reaching forwards) at the same time lifting the alternate leg off the floor (as if it is being pulled behind you). Repeat this action with the other two limbs.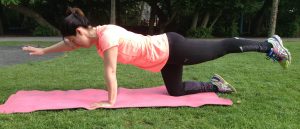 Fig 5
The number of repetitions depends on how many you can manage. It is better to do less if it means each repetition is done correctly. It is beneficial to be working on your core stability a couple of times a week.
There are so many exercises that can be completed to help with core strength. The exercises can be made progressively harder through introducing controlled movement or holding the position for longer or even adding another element to the exercise for example using a swizz ball.
If you are keen to work on your core conditioning you are welcome to contact me and we can design a programme that is appropriate for you. Alternatively Pilates is an excellent way to exercise the whole body and mind, working on improving strength, suppleness and control (Michelle Lee at Michelle Lee Pilates Plus is an excellent teacher michellejlee84@gmail.com). Have a go and enjoy!