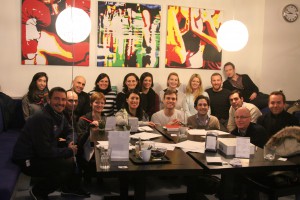 Myself and Lorna Wilson from  Wilson's Workouts decided to do a workshop for ATAC . It was our first workshop together so we were looking forward to seeing how it was going to be received.
The members of ATAC are very passionate athletes. They are keen cyclists and triathletes so they are no strangers to training hard and receiving the occasional injury. Our aim in the workshop was to reinforce their knowledge and confidence regarding injury prevention, management and recovery and hopefully teach them one or two new things in the process too. In addition we were introducing the group to Biomechanics Coaching.
One area I placed emphasis was strength training. There is no question these athletes work hard on their fitness and techniques but sometimes strength training is set aside and not included in the regular training programme. This seemed to be the tip of the evening that people got from me.
Everybody was really interested in Lorna's biomechanics part of the workshop as Biomechanics Coaching is new to people. This was the practical aspect of the workshop involving people getting on the floor and learning about their bodies (which is always an eye opener!) as Lorna went through some of her screening processes.
We received some really positive feedback during and at the end of the workshop. The group were interactive throughout and it was great to have questions and hear personal experiences, adding to the depth of knowledge and information shared.
We hope everyone took away something new and positive from the workshop. One ATAC member training for an Iron Man has even blogged about it! Lorna and I are looking forward to working together in the future on other workshops and with specific clients.